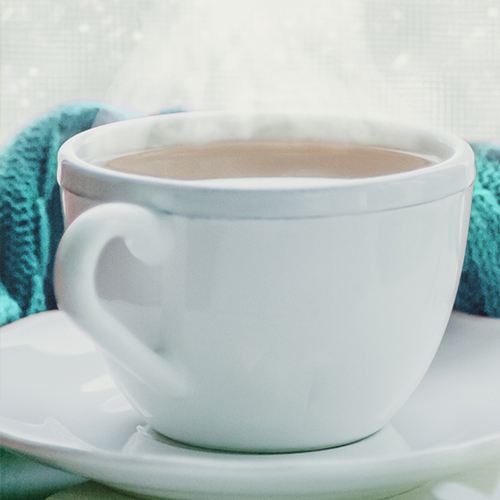 Oaty Mocha Warm Smoothie
1 tablespoon unsweetened cocoa powder
1 cup milk or non-dairy beverage
1 teaspoon instant coffee granules
3 Tablespoons rolled oats
½ ripe banana
1 Tablespoon Almond butter
¼ cup water
1 Scoop Reliv Now, Classic, Active or ProVantage
Stir milk, cocoa and coffee granules in a microwave safe mug. Heat on medium power until mixture is warm.
Combine water, banana, oats, almond butter and Reliv product in blender cup. Add ¼ cup of warm milk mixture and blend well.
Heat the remaining milk mixture in the microwave until hot, but not boiling.
Pour blended oat mixture into mug with milk mixture and stir well.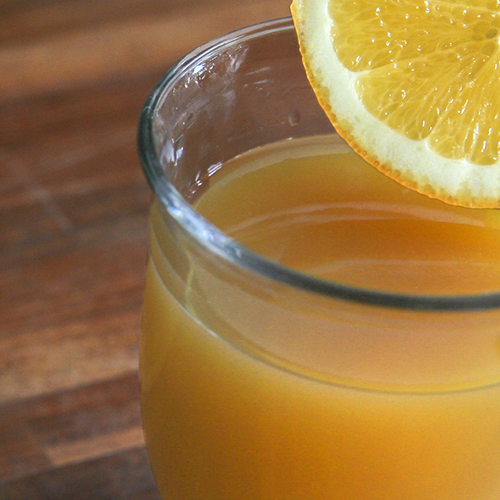 Cozy Orange, Ginger & Carrot Smoothie
 ½ cup cold water
1 scoop Innergize – orange
½ cup chopped or grated fresh carrot
1 teaspoon fresh grated ginger or ¼ teaspoon dry ginger
1 Tablespoon lemon juice
½ - 1 Tablespoon honey (optional)
¾ cup very hot water
Add all ingredients to blender except hot water and blend well.  Pour mixture into a mug and stir in the hot water.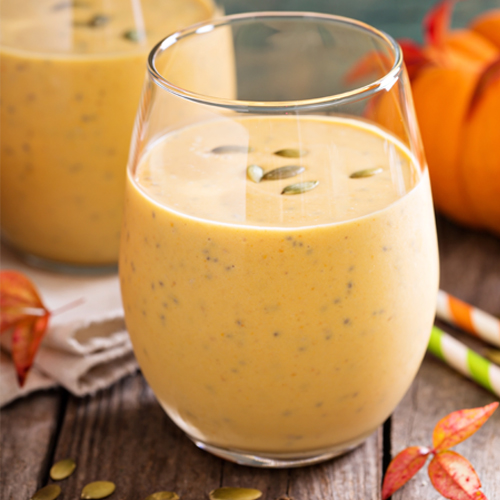 Pumpkin Pie
8 oz. milk or non-dairy beverage
1/2 frozen banana
1/2 cup pumpkin puree
1 scoop Reliv Now®
1 scoop ProVantage® or Fit3TM Active
1 teaspoon pumpkin pie spice
1/2 teaspoon stevia sweetener (or to taste)
Ice for desired consistency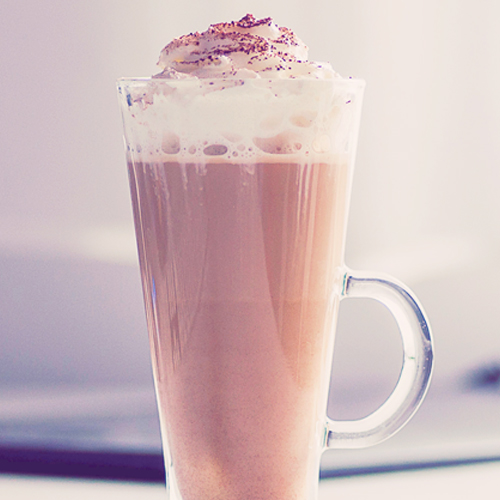 Good Morning Mochaccino

1/2 cup cold coffee
1/2 cup soy milk
1 scoop Reliv Now® with Soy
1 tbsp. cocoa powder
1 tsp. instant coffee granules
1 tsp. stevia
1/2 cup crushed ice
Garnish: Whipped topping and
chocolate sprinkles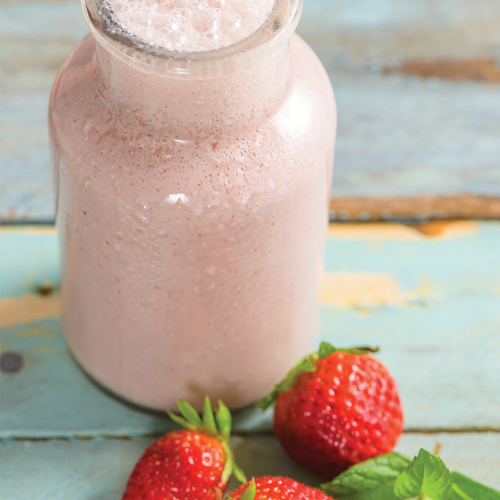 Chocolate Covered Strawberry Shake

1 scoop Fit3™ Active
½ cup strawberry Greek yogurt
¾ cup frozen strawberries
1 cup unsweetened almond milk
1 tbsp. cocoa powder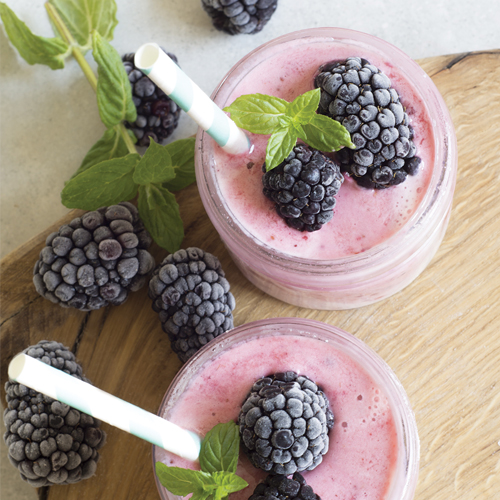 Reliv Berry Smoothie

1 scoop Reliv Now® (with Whey or Soy)
1 cup unsweetened almond milk
½ cup frozen berries
½ frozen banana
1 cup spinach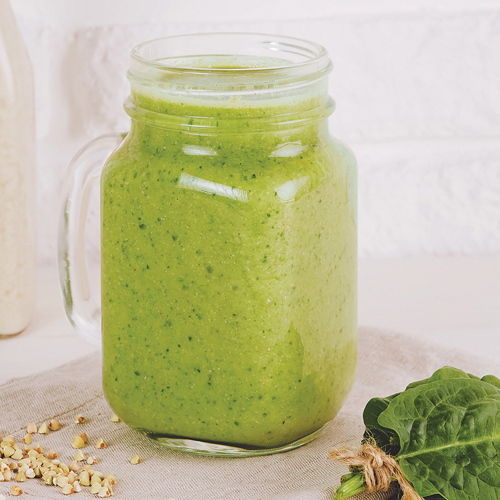 Toning Green Smoothie

1 scoop Reliv FibRestore®
1 scoop Reliv Now® (whey or soy)
½ cup coconut water
1/2 banana
1 cucumber
2 tbsp. of fresh ginger
1 tbsp. apple cider vinegar
½ cup ice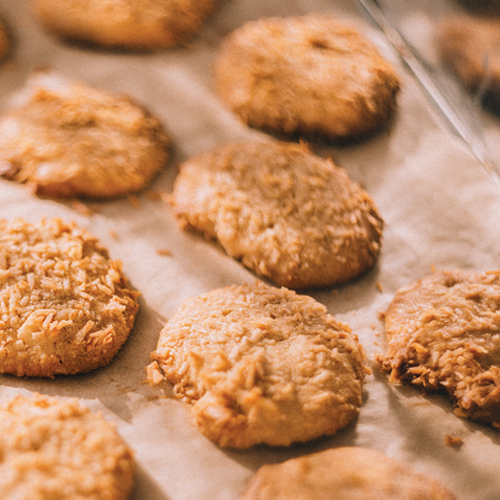 Fit3™ Active PB Cookies

Yields 18 Servings
1 cup whole wheat flour
2 scoops Fit3™ Active
½ teaspoon baking soda
¼ teaspoon salt
½ cup peanut butter
1 egg
1 ½ tablespoon unsweetened almond milk
2 tablespoons honey

Preheat oven to 350 degrees.

Mix together dry ingredients in
a medium-sized bowl.

Add peanut butter, egg, almond milk
and honey and stir until combined. May
need to add more liquid if still crumbly.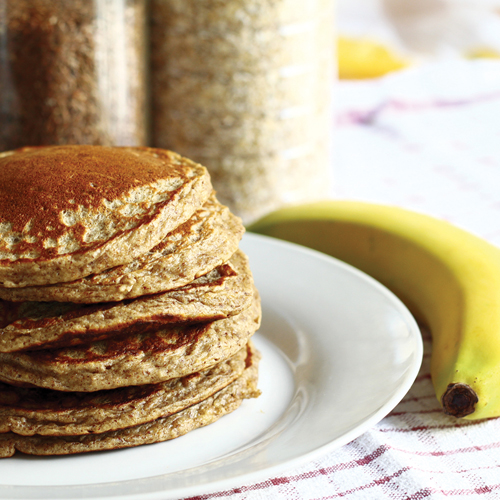 Fit3™ Active Chia Seed Pancakes

Yields 1 Serving
½ mashed banana
2 egg whites
1 scoop Fit3™ Active
2 tsp. chia seeds
1/8 tsp. vanilla extract
½ tsp. baking powder
1 Tbs. whole wheat flour or gluten-free
alternative
1 Tbs. almond milk

Directions: Mash the banana, mix in all
the other ingredients. Heat a small drop
of coconut oil in a large skillet pan over
medium-low heat. 

Pour to make small
pancakes like above or one large pancake.

When bubbles start to surface, flip! Keep
an eye on the other side — when it's
golden you are done! Serve.

Flavors: Add a spoonful of
powdered peanut butter or a dash of
cinnamon for a different flavor! Don't
like chia seeds? Just remove
them from the recipe!

Toppings: Drizzle with a bit of honey, pure
maple syrup, unsweetened plain Greek
yogurt, or top with lots of fruit!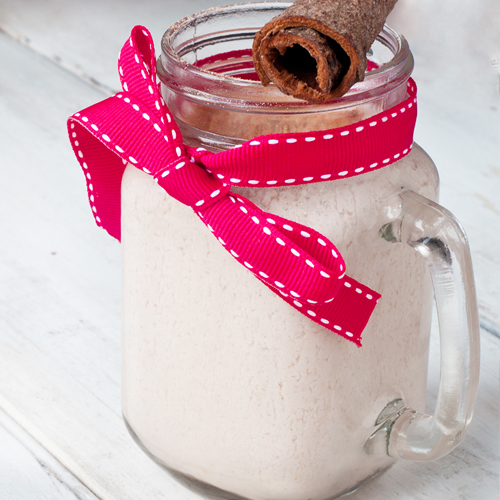 Mama Mia Vanilla Chia

1/2 cup whole milk
1/2 cup vanilla Greek yogurt
1 scoop Now® with Soy
1 tsp. vanilla extract
1 tbsp. chia seeds
1 cup crushed iced
Garnish: Whipped topping and
sprinkle of cinnamon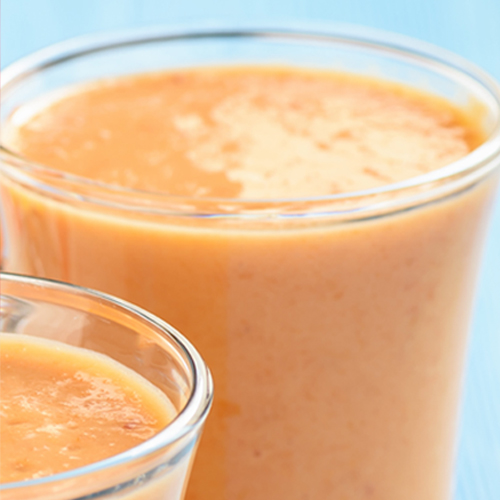 Carrot Cake Shake
1 cup steamed carrots (cooled)
1 cup steamed cauliflower (cooled)
1/2 cup frozen pineapple
1 banana – frozen
2 scoops Reliv Now, Fit3 Active or ProVantage
1 cup milk or coconut milk
2 tablespoons almond butter
1/2 avocado
1 teaspoon cinnamon
1 cup crushed ice
Stevia sweetener to taste
Combine all ingredients in a blender and blend well
Optional add-ins – 1 Tablespoon ground flaxseed, 1 Tablespoon unsweetened coconut
Makes 2 servings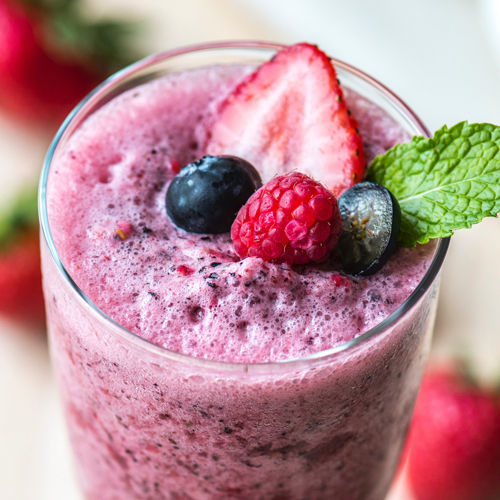 Triple Berry Booster

1 cup whole milk
1/2 banana
1/2 cup triple berry blend
1 scoop Reliv Now® with Whey
1/2 cup ice
Garnish: 1 strawberry, 1 raspberry,
1 blueberry